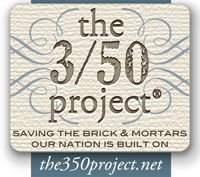 This is an interesting concept to support local business. Think about this, what 3 independently owned local businesses would you miss if they were gone? I can think of far more than three in New Smyrna Beach, I am sure you can too.

If only half of the employed population in this country spent just $50.00 per month in locally owned businesses and bypassed the big chains it would pump 42.6 billion in revenue. Did you now that $68.00 of every $100.00 you spend at local business goes directly back into the local economy via taxes, payroll and other expenses? This is big money.

So this month eat at your local restaurants, buy gifts at local gift shops (Flagler Avenue has a ton of choices for both of these), drop in at Coronado Hardware in NSB or Osborne Hardware in Edgewater. Buy a bottle of wine at the wine warehouse or OM Bar....you get the idea.



Try it out and let me know what you think!